ShrikeRisen
PL: Human






Posts

: 3


Points

: 7


Join date

: 2011-08-04


Age

: 27


Location

: Norman, Oklahoma


Subject: The Metal Lord Thu Aug 04, 2011 2:59 pm

---

Hey everyone, I'm ShrikeRisen the new warlord on this thread.

I intend to meet every last one of you and start to form healthy relationships with you guys. What I mean by that is that I hope that none of you want to kill me by the time you guys get to know me.

Anyway, great to meet you people, and I hope we all have an amazing time here.
LittleMelon18
PA Member





Posts

: 36


Points

: 46


Join date

: 2011-06-23


Age

: 25


Location

: New Zealand


Subject: Re: The Metal Lord Sat Aug 06, 2011 4:26 pm

---

Hey there ShrikeRisen~!

Welcome welcome to this forum! xD I too hope to have a 'healthy' relationship with you too. Although, to warn you, if you strike first, I will kill you first.

While you remain alive, I hope you enjoy yourself here.
AbhiEpicWorks
Administrator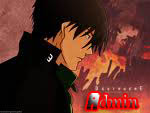 Posts

: 353


Points

: 625


Join date

: 2011-04-21


Subject: Re: The Metal Lord Sat Aug 06, 2011 9:09 pm

---

ShrikeRisen wrote:

Hey everyone, I'm ShrikeRisen the new warlord on this thread.
I intend to meet every last one of you and start to form healthy relationships with you guys. What I mean by that is that I hope that none of you want to kill me by the time you guys get to know me.
Anyway, great to meet you people, and I hope we all have an amazing time here.

Hello ShrikeRisen!!We welcome you here

, on EPIC WORKS!!

Of course, we all want to have a healthy relationship with each other!

Don't worry! No one is going to kill you, when your protector is here!

Ah, but if it's Mel-chan, then I can't guarantee that!

Mel-chan has some seriously dangerous techniques!

We hope you enjoy your time with us!See you!!

^^

_________________

~~Epic works are for ever.....~~



Last edited by AbhiEpicWorks on Tue Aug 16, 2011 9:34 am; edited 1 time in total
ShrikeRisen
PL: Human






Posts

: 3


Points

: 7


Join date

: 2011-08-04


Age

: 27


Location

: Norman, Oklahoma


Subject: Re: The Metal Lord Tue Aug 16, 2011 3:56 am

---

AbhiEpicWorks wrote:

ShrikeRisen wrote:

Hey everyone, I'm ShrikeRisen the new warlord on this thread.
I intend to meet every last one of you and start to form healthy relationships with you guys. What I mean by that is that I hope that none of you want to kill me by the time you guys get to know me.
Anyway, great to meet you people, and I hope we all have an amazing time here.


Hello ShrikeRisen!!

We welcome you here, on EPIC WORKS!!

Of course, we all want to have a healthy relationship with each other!

Don't worry! No one is going to kill you, when your protector is here!

Ah, but if it's Mel-chan, then I can't guarantee that!

Mel-chan has some seriously dangerous techniques!

We hope you enjoy your time with us!


See you!! ^^

Well thank you for the welcome and the assistance for if I'm attacked.

@Mel-chan Thanks for the welcome, and I'll make sure not to provoke you into killing me in anyway. LOL
LittleMelon18
PA Member





Posts

: 36


Points

: 46


Join date

: 2011-06-23


Age

: 25


Location

: New Zealand


Subject: Re: The Metal Lord Tue Aug 16, 2011 4:14 pm

---

Glad you took that on board. But I'm sure we'll get along very well. ^^
Sponsored content

Subject: Re: The Metal Lord

---